Sam Iwata, aka Liu, is a writer-director based in Shanghai, China, a former M&C Saatchi Shanghai Head of TV from 2010 – 2019, and the founder of 38pro film Ltd. as a Writer-Director from 2018 – to the current.
In commercials, he was awarded the ROI FESTIVAL GOLD WINNER in 2018.
Currently, Sam is adapting himself to the movie industry, targeting on becoming a successful storyteller while projecting compelling visuals toward audiences with mind-blowing creative works of art to come.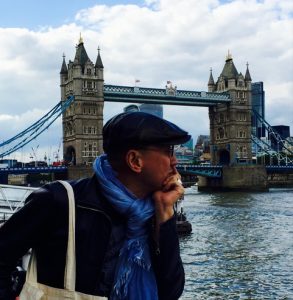 Hello Sam, welcome to Focus! Metempsychosis is a brilliant movie! Everything was so on point. I'd love to know what attracted you to the story!
Thank you, as I am so excited and honored to be on Focus! 
It all started when a dear friend of mine asked me to collaborate on a 48 Hour Film Project, based on one of my ideal stories.  Back then, I was still in the middle of finalizing a full-length sports drama screenplay with my writing partner, my nephew Michael Shih as we studied and tried to press forward, but especially did not fit the budget requirement of 1K USD.
I then quickly went through my list and paused to focus on the title, "Metempsychosis," which was originally a full-length film idea on my once abandoned list.  I gave it up due to acquiring an understanding of similar movies such as "Last Night in Soho directed by Edgar Wright and starring Thomasin McKenzie and Anya Taylor-Joy" and "INFINITE directed by Antoine Fuqua and starring Mark Wahlberg," realizing later they are similar, but only not.  
The main issue would be how to convert it into a short form, as I struggled.  Soon later on, I located a solution by focusing on a sub-character "Cindy," telling the story from her perspective.  Finally, Michael and I wrote and rewrote it until we successfully finalized a ten-page screenplay.
Thanks to this golden opportunity, I am grateful to give life to "Metempsychosis," which I was originally inspired and borrowed from my childhood dream.  
What kinds of films do you wish to make?
A great question indeed!  I believe only an entertaining story may reach a majority of the audience toward sharing to express the life philosophy I believe in.  In other words, a philosophy just may help the world become a better and peaceful place for you and me. 
Besides, the documentary is not my cup of tea, as where I am open to all other genres.  As long as I can see the possibility of transforming great storylines into staggering movies.  Being similar to a thriller mystery parallel to Metempsychosis or a sports drama similar to Breaking Free, both include a compelling storyline and message for the audience to discover.  Whereas a visually driven filmmaker, I explicitly demand high-quality pictures within my authority in addition to the budget, for the core of a story to be the SOUL and pictures will be its unique CLOTHING.
The content of the film is pretty heavy and complex! You have shown everything with sheer brilliance. How did you balance everything while shooting?
Although the journey was tough, we still accomplished and achieved capturing our goal within hours.  Speaking from grateful experiences obtained via the commercial world, we plan as much as possible before shoots but mostly react and adjust accordingly to different situations on sites, where working with the trusted key crew is especially essential.   
PS: Realistically, I had no other choice, but to discard a few shots here and there, or else the story would not have been as complete. 
AK Liangjun Zha has done a great job with the camera. You were the editor yourself. I'd love to know about the experience. How exciting was it?
I have been working with AK Liangjun Zha quite frequently ever since his graduation from New York Film Academy a few years back.  He is indeed great and without a doubt becoming even greater as time rolls by.  Not to mention another essential individual who happens to be a producer and the 1st AD in Metempsychosis, as he also graduated from New York Film Academy as well.  Together, we have traveled and survived through many jungles, as we accomplished to achieve remarkable depths through collaboration, including the jungle of Metempsychosis.  They are truly my soul brothers and a big shout out to them.  
While not being categorized as a professional editor, without a doubt, I still truly enjoy every moment of learning editing, and editing itself is one of my passions in filmmaking.  
Sam, you had mentioned that you all had to squeeze the movie into a short film. Would you like to share why you couldn't proceed with a feature-length movie?
As mentioned earlier, Metempsychosis was an abandoned idea as I was illusioned by the market.  From such an experience, I now have learned in regardless of how hard we try to be original, pieces of a story will often overlap with another, as the origin of storytelling has been around ever since humanity.
Additionally, appointing the right producer or investor is difficult, especially in an overwhelming market.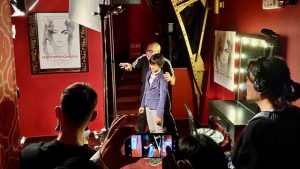 My next question is if you could get a chance to make this story into a feature-length movie, would you be interested?
Absolutely, without a shadow of a doubt!  In fact, Michael and I have just finished our first draft "OUTLINE," which also includes character mapping as well as key characters' backstories for the time being.
Cindy is a character trapped inside her own scars, how difficult was it to write a character like her?
Creating a character like Cindy was not an easy task, but was not too difficult either, as we created a backstory to remind traits of Cindy for carrying out healthy interaction with other characters throughout the film for her role to be successfully ideal. 
Sam, I'd like to know what your idea of metempsychosis is. How much can a person change in their lifetime?
Metempsychosis is about the cause and effect of Karma.  Meaning, what we do will come back to visit us repeatedly unless we uncurse our bad seeds.  Meaning we can still change our lives by following the law of Universe through planting good seeds every moment.  Not at all an easy task, but better chances when actioned!
The cast did a great job with their characters. Would you like to share with us how you finalized the actors?
Cindy's role was the most difficult as there were gorgeous candidates, but when Maggie revealed her emotion on behalf of Cindy, I instantly knew Cindy's role will belong to her.  Significantly, she eventually proved to me of my decision being ultimately correct.
You used to be a part of the commercial world. How does the transition to this film world feel like?
Still as an established commercial director up to date, I have to admit the fact in which I underestimated the film industry, thinking how difficult can it be, being in charge of treatments and scripts in commercials.  Without paying careful attention to the theory behind film-making, many screenplays Michael and I wrote became total failure!  Afterward, I decided to spend time studying from ground up, including basic storytelling with structure, character arcs and even human psychology, including personalities toward assisting my recent projects by a great deal.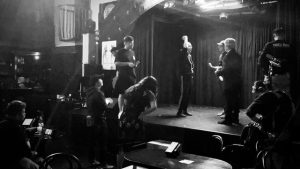 Sam, thank you so much for sharing your experience with us! Lastly, I'd love to know what your future plan is. Have you figured out your next project?
My top priority now is to finish both the full-length screenplay of "Metempsychosis" as well as finalize "Breaking Free" with my writing partner, my nephew Michael Shih before moving on to a long list of selections, starting with "Inhuman" in which our list continues on and on!"