Bilal Hussain is an award-winning indie filmmaker, he has been making short films for eleven years (present) He is a Pakistani-Canadian citizen, who lives in Esbjerg, Denmark, and works at a local television station "Tv-Glad Esbjerg" as a reporter, anchor, cameraman & segment editor. Besides work and filmmaking, he has written two crime-fiction books, he has also been a film judge at the "Tokyo Lift-Off Sessions", "Box Short Film Festival" & "Istanbul Kisa Golden Film Festival".
Bilal, the movie is emotionally powerful. I'd love to know what was your inspiration behind writing the story?
Yes it is. My inspiration comes from myself as I use a manual wheelchair when I have to travel for long, it also comes from some of my friends who sit in a wheelchair every day and can't walk. Due to this, I thought to fictionalize this theme and turn it into this action, crime-drama, emotional short film.
The movie largely revolves around lost time and its significance. How difficult was it to write such a complex script?
The first three-four drafts of the screenplay were not good because the plot twists were not written well and also the characters weren't complex enough. At the time of the writing, I was on vacation in Lahore, Pakistan so I had lots of time to think. I then wrote every day and finished the screenplay.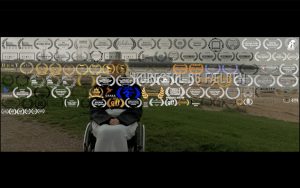 What drives you towards your betterment? How do you seek inspiration for writing?
Making bad films and never learning to get better at it – haha. Jokes on the side. I love cinema, it runs in my blood and soul. Filmmaking is my life. When I started making short films in 2011 – 2022 (present) the first five weren't good due to bad storylines and other technical issues. I see many films and series from almost all over the world, especially from Hollywood and the Danish cinema. I also see old classics, like two of my all-time favorite films Taxi Driver (1976) & The Godfather (1972), and many more. If I name all of them, the interview will be extremely long. Haha. After the first five short films, I learned my mistakes which I corrected here in my sixth short film The Wheelchair And The Trap (2020), and in my seventh short film Jessica: Part Two (2020) I always want to get better at filmmaking. The inspiration comes from watching films and series but I never want to copy from Hollywood or the Danish cinema. I always intend to write in my own flavor.
Michelle and her mother finally reconcile in the film. What's your concept of reconciliation? Is it possible to completely let go of the past resentment and miscommunication and move on with the newfound equation?
Yes they do. I think it depends on what the issue has been, the some issues are wrath letting go and some aren't. I don't really have a concept on it but from life experiences, I just think it depends on the issue at hand. I have thought about writing a film about this theme.
According to you, what are the pros and the cons of directing?
The good thing about directing is, that you are the boss and everyone has to follow you. A good director listens to other ideas from it's team and gives space to the actors who bring their ideas to the table but in the end, it is the director's job to say yes or no to those ideas. The bad thing, I actually don't know – this question has never been asked to me before. I honestly never have had any problems directing so, I don't know any cons regarding directing.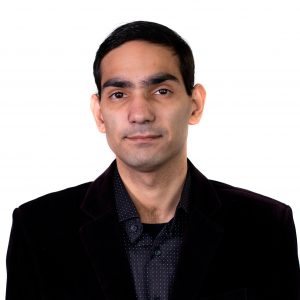 Michelle's days in a wheelchair also tries to show the difficulties that the especially disabled people face in their daily life. Was there a reason behind putting her on Wheelchair? What message do you wish to convey through your films?
Yes, it does, that is the whole message and point of the film. The reason to put Michelle in the wheelchair was to show the difficult daily life of a person in the wheelchair. I mostly want to convey, never give up, give the other person a chance as everyone deserves it. It's alright to make mistakes in life but those mistakes should be corrected as well at one point.
You have previously stated that you wished to become a police officer. What is your definition of a police officer?
A police officer should never be corrupt – he/she should honor the badge, help people who can't help them selfs and protect the city.
Among the characters you have created, who do you relate to the most?
Hmm, of all my characters, it's hard to say. If we talk about The Wheelchair And The Trap (2020) then I am the honest police detective but otherwise I don't know.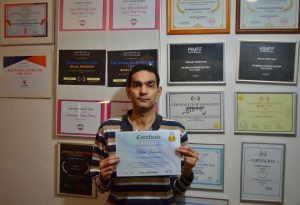 Where do you see yourself in the future? Is there any dream project you wish to lead?
Winning an Emmy, Golden Globe, Oscar, Bafta, Canadian Screen Award, Danish Film Awards (Robert) – I intend to make many feature films and become one of the best writers and directors of all time. This is the dream and my future. No, at the moment I don't have any dream projects but I am writing my first feature film which I hope it gets distributed in the Danish cinemas and worldwide as well. 
It was nice knowing your thoughts, Bilal. Thank you!
It was a pleasure as well to answer your questions, once again – thank you for selecting and nominating The Wheelchair And The Trap (2020) in the Best Short Film category.