Monika Abate was born at Lenox Hill hospital in New York City during a snowstorm. Monika is a fraternal twin and is the youngest by two minutes. Monika's first audition was for the youngest daughter role for the 1990 film Mermaids. Though she failed to get the role, she nurtured the dream of becoming an actor. Monika's first acting role was in her twin brother's homemade movie, Attack of the Killer Snake.
Monika received her Bachelor of Fine Arts degree with a major in Photography from the School of Visual Arts, New York, NY in 2005. It was after she graduated that she decided to pursue acting which led her to create her own work. She has worked on various films ranging from small to large budget film sets. She gained a lot of her experience by simply being an extra on film sets.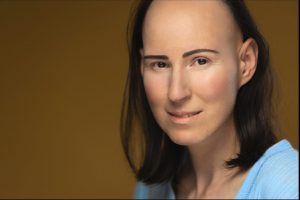 Monika was cast as the Queen in Snow White and the Seven Dwarfs, an Off-Off Broadway play at the Producer's Club in New York City in 2019. This was her first theater performance. In 2020, Monika's partnership with 50/50 Films, a collaborative independent filmmaking production group was announced.
In 2021, Monika created Escape, a short film about a woman who escapes prison in an effort to prove her innocence. She is the Writer, Director, Actress and Producer of the short film. The film includes actors and crew from the U.S., Canada and Ireland. Escape has won multiple awards at film festivals around the world including Best Women's Film at 4th Dimension Independent Film Festival in Bali, Indonesia.
Welcome Monika. Thank you for joining us. Escape is very thought provoking! How did you come up with the story?
Thank you for having me. I've been creating for a long time. I've portrayed many different characters and it was time for something fresh that would be a challenge. It all started with taking a hard look at myself in the mirror and asking myself, "Self?! Where do I see myself in the industry?" The mirror looked back at me and it was a clear reflection. I wanted to play a prisoner for some time so I just went for it. I also wanted a good challenge so I made the decision to play innocent. It would have been easy for me to play guilty. Once that was decided, all of the characters involved came into play and I created a story; a woman escapes prison in an effort to prove her innocence.
Monika, movies have been your passion for a long time. How did this love grow?
Each time I find a good movie or start a new TV series, I get excited especially when there is a good storyline. My love grows even stronger for movies and the industry when I see my fellow actors doing their thing. I love to celebrate their success.
People had various speculations and opinions of the lead character Eliza and she is misjudged. How did you prepare for her role? 
First, I had to create Eliza's character and then delve into her story. She had to find the courage to go up against the bad guys. Also, I didn't want Eliza to let other people's opinions affect her and what she had to battle. Although she was very sensitive to the negative words of others, she still had a mission and needed to stay focused. Eliza had to focus on the fact that someone else committed the crime. She was not guilty. We all know the saying, "the truth will always prevail." Eliza banked on the truth. I prepared for the role by truly knowing and embracing Eliza's story.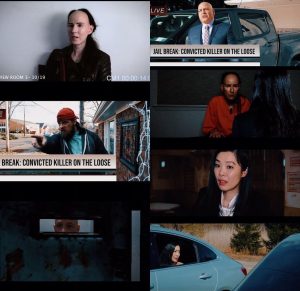 If you had to describe Eliza's character in three words, what would they be?
Strong. Loyal. Warrior.
Monika, I'm sure writing the story was very taxing since Eliza's character is complex. How much time did it take you to craft and plan the entire story?
There was no deadline for the film so there was no rush. I took my time with it. The idea hit a couple of years ago. It took around six months or so to write the story.
You've done a great job with Escape, Monika. Not only did you write the story, but you also played the lead character yourself. I'd love to know how you balanced this actor-director dynamic on set?
Thank you so much. We had rehearsals and I gave direction ahead of time which helped a lot. When we were on set, whether it was virtual or in person, I gave direction before the scene and allowed the moment to happen. Also, I had to shift gears in my brain going from director to actor. I found that it was a natural transition. I was patient. I also put my trust in the actors and the situation.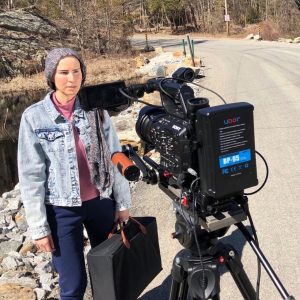 As a director, what kind of stories do you wish to direct in the future?
I have a couple of stories in mind. The stories are inspired by true events.
Monika, tell us something about your next project. We are so excited to learn more!
I am planning to make Escape a feature film.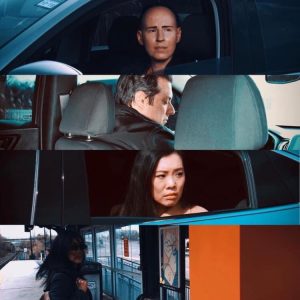 Where can others learn more about your projects?
You can stay up to date with my projects on Instagram and Facebook.
What advice do you have for aspiring actors and filmmakers?
Don't feel discouraged if you don't get the part. Keep working on your goals and don't give yourself a time limit.
Awesome! We wish you all the best with your future filmmaking goals!
Thank you for this amazing opportunity to share my background experience with Focus magazine.